Former South Carolina Representative and current CNN commentator Bakari Sellers released the first episode of his podcast Wednesday. ViewPoint with Bakari Sellers kicked off with an in-depth interview with 2016 presidential candidate Hillary Clinton.
Clinton spoke with Sellers on a wide range of topics, including Donald Trump's presidency, losing the election, and then-F.B.I. Director James Comey's letter to Congress, which arguably cost her the race.
Clinton discussed her plans to support Democratic candidates in the future — including Sellers. "I'm for you. I'm on your side, whatever you decide," she told Sellers. "My next office, I am going to bring you down to South Carolina to get you to campaign with me a little bit," Sellers replied, to which Clinton enthusiastically agreed.
Clinton has done a slew of interviews in the wake of the release of her book, What Happened, a reflection on her loss to Trump and the factors that contributed to that loss. But her interview on ViewPoint is one of the few conducted on a podcast, and a significant accomplishment for the brand-new show.
While hearing from Clinton will surely be anticipated by many Democrats still reeling from the election last November, the highlight of the podcast is Bakari Sellers' review of Tommy John premium men's underwear at the beginning of the show. His inspiring tale of his wife and child buying him the revolutionary new underpants that "never ride up" and "never get wedgies" set the tone for the interview with the former top diplomat of the United States.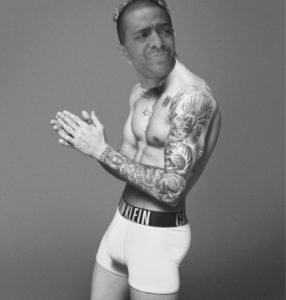 The Palmetto Insider unearthed a photo of Sellers in his new role as an underwear spokesman. We wish Bakari the best in his pursuit of comfortable underpants.
The next episode of ViewPoint with Bakari Sellers comes out this week and features radio/television personality and South Carolina native Charlamagne tha God. The podcast is available here and on iTunes.